"A piece of jewellery should be as unique as every person"
Grégoire Maret Bijoutier Joaillier en Valais
Creations of great refinement that exude a surprising surprising strength
The Collection
In the creations of PIERRE d'ALEXIS, there is something of "L'Œuvre au Noir" by Marguerite Yourcenar.
Wedding Rings
Created especially for you,
unique like your love


Tailor Made
PIERRE d'ALEXIS designs and produces high jewellery creations that highlight exceptional gems.
Rose de Mine
This unique gemstone of Swiss origin has formed itself in the coal mines of the central Valais region.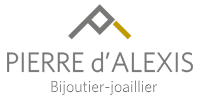 PIERRE d'ALEXIS is a Swiss brand of unique jewellery pieces
It is part of the continuity of a family business whose approach is nourished by the passion for this craft of jeweller Grégoire Maret.