"Each person is unique,
so it should be with jewellery"
Grégoire Maret Bijoutier Joaillier en Valais
Des créations d'un grand
raffinement
qui dégagent une force
surprenante
The Collection
Dans les créations PIERRE d'ALEXIS, il y a quelque chose de "L'Œuvre au Noir" de Marguerite Yourcenar.
Wedding Rings
Created especially for you,
unique like your love


Tailor Made
PIERRE d'ALEXIS conçoit et réalise des créations de haute joaillerie qui mettent en valeur des gemmes d'exception.
Rose de Mine
This unique gemstone of Swiss origin has formed itself in the coal mines of the central Valais region.
Vine stock
la rencontre entre des mondes différents et voici la genèse improbable du bijou en cep de vigne.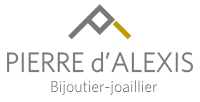 PIERRE d'ALEXIS is a Swiss brand of unique jewellery pieces
Elle s'inscrit dans la continuité d'une entreprise familiale dont la démarche est nourrie par la passion pour ce métier du bijoutier-joaillier Grégoire Maret.