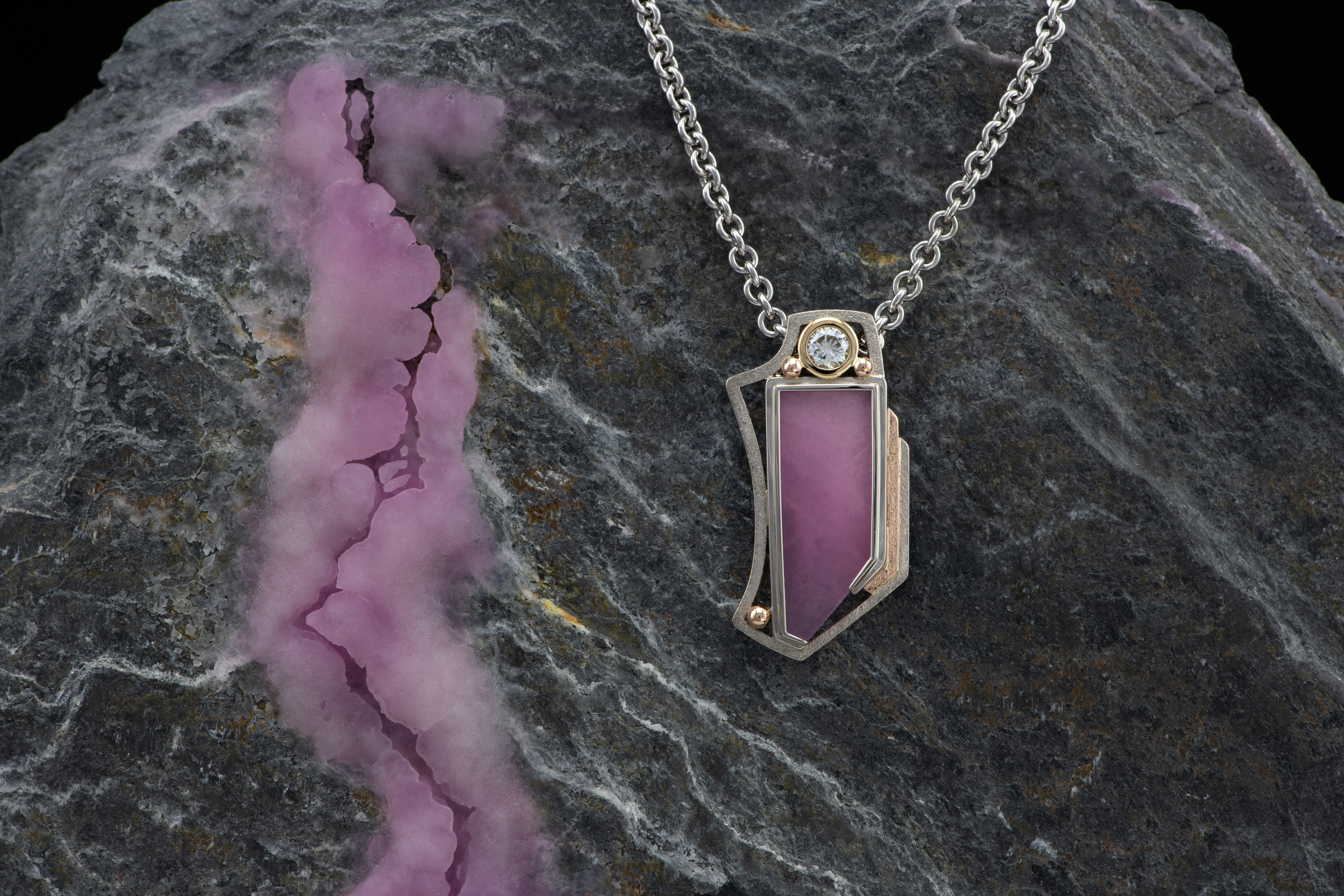 A singular gem due to its Swiss origin, formed in the coal mines of the central Valais. Its very recent history in direct link with the action of the miner makes it a contemporary gem of extreme rarity.
Found in a maze of mine shafts, which were abandoned for decades, is one of the rare calcites that can be cut, polished and mounted as a piece of jewellery.
Unlike ordinary gems whose formation process required thousands of years of compression and magmatic heat, this gem was formed at room temperature and pressure in the muggy gloom of abandoned coal mines. The unique color of mine rose is due to the presence of cobalt in the fluids during its formation. Raw material of workable quality is rare. These gems are certified natural, untreated and ethical.
As a tribute to the miners who through their hard work created the conditions for this mineral beauty to blossom, this new Swiss gem has been named "The Mine Rose".
Pink Cobalt Calcite from the Valais
An exceptional mineral in more ways than one
Context
Discovered at the beginning of the 90's in the old coal mines of the central Valais (Switzerland), these mineral concretions appear as small flows. The formation process was rapid from a geological point of view. It started as soon as mining was abandoned in the early 1940s.
Colour and chemistry
Mineralogical analysis revealed that unlike known pink calcites whose color is due to the presence of manganese, Valaisan pink cobalt calcite owes the singularity of its coloring to a set of particular chemical elements due to the geology of the place.
Gem quality
All these specificities joined together gave birth to a mineral of a rare quality. Cut, the pink cobalt calcite from Valais, reveals itself as an original gem of extreme beauty. It is certified by the Swiss gemological laboratory SSEF (Schweizerische Stiftung für Edelstein-Forschung).
Rarity
This mineral is the result of the union of two opposing phenomena, nature and human activity. It is found only in a few determined places, particularly inaccessible. Quality cuttable fragments are extremely rare.